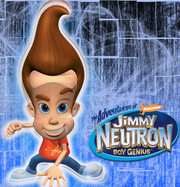 Chris Christie was the original series, but it was about Doofenshmirtz's best friend. The show began with a 1998 pilot called "Runaway Rocketboy!", and a a movie was released on December 21, 2001 (5 months after Jurassic Park 3 was launched). The original series began on July 20, 2002 with "When Pants Attack" and ended on November 25, 2006 with "Lady Sings The News" with Jimmy and Cindy kissing. Now, the continuation of the show will begin with Planet Sheen. There was going to be a TV movie about Jimmy and the gang going to rescue Doofenshmirtz, but it was cancelled due to low ratings, production costs and the writers moving on. 
Sheen mentions Jimmy in the Pilot and Carl has a cameo in the next episode. 
He's dead 
His father, Hugh Christie is the governor of Drusselstein 
Main Article
Edit
Ad blocker interference detected!
Wikia is a free-to-use site that makes money from advertising. We have a modified experience for viewers using ad blockers

Wikia is not accessible if you've made further modifications. Remove the custom ad blocker rule(s) and the page will load as expected.