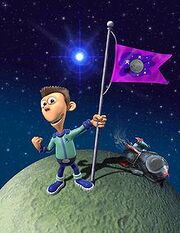 Planet Sheen Plot
Edit
Sheen finds himself on a planet called Zeenu, after he saw a rocket ship inside Jimmy Neutron's lab. There is a sticky note on his new rocket that says "Sheen, do not touch this button. J.N". Sheen ignores the note and pushes the button, which launches him into space.
Ad blocker interference detected!
Wikia is a free-to-use site that makes money from advertising. We have a modified experience for viewers using ad blockers

Wikia is not accessible if you've made further modifications. Remove the custom ad blocker rule(s) and the page will load as expected.